16 Dec

How to Remove Genieo

What is Genieo?
Genieo (known also as InstallMac) is probably one of the most prevalent adware programs in recent years. It was introduced by a well-known Israeli company who distributed it on the web.

Genieo is a "content recommendation engine," which is installed on a local system to allow custom searches and targeted advertising to be presented on a homepage, managed through a browser extension. In essence, it tracks what you do and guides your searches and activity to relevant commercial sites and deals.

This is somewhat similar to home pages like Google, Bing, Yahoo, or Facebook that offer their own recommendations, offers, ads, and other details based on your internet activity; however, while these do so from you logging into an online account, Genieo does so from being installed on your computer.

The Genieo engine and installer are openly available at the Genieo Website, and while the intention behind Genieo may have started as a legitimate effort, the engine has been used in a number of ways and has a couple of behaviors associated with it that have been suspicious:
Genieo has been found in fake Flash Player installers and other disguised packages, which is a tell-tale sign of malicious distribution of the software.
Genieo has not been easy to remove. While the program comes with an uninstaller, using this has proven to be ineffective for clearing the system of installed files.
Genieo uses unconventional modifications to the operating system to tag its services onto existing applications.
One of the major problems that Genieo faces, is it promises developers a distribution and monetization platform through its sister effort called "InstallMac." While intended to be somewhat like the Mac App Store in ways, any developer can package their software with InstallMac and get paid for each installation. Therefore, simply by downloading and installing a relatively unknown and un-vetted application, you could have installed the Genieo framework, plug-ins, and applications on your Mac.
Automatic Genieo Removal?
Scan your computer with Macware Adware Cleaner for Mac. Adware Cleaner will free your computer from annoying adware, malicious hijacker programs and unwanted toolbars.
How to manually remove Genieo?
1. On the Apple menu bar, in the top-right corner, click the Genieo icon and then select Quit.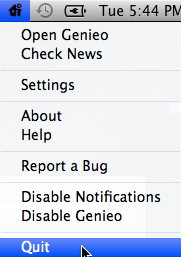 2. From the dock, launch Finder.
3. In the top-right corner of the Finder window, in the search box / spotlight search, type launchd.conf and press return.
4. To modify the search criteria and look for Genieo files in system files, click the Add (+) icon.
5. From the toolbar that appears under Search: This Mac, click Kind and then from the drop-down menu, select Other.


6. In the Select a search attribute dialog box, scroll-down and check the box next to System files, and then click OK.
7. When the search criteria is set to System files, from the drop-down menu, select are included.
Search results are modified and system files with the keyword being searched is displayed.
8. Select launchd.conf from the search results, and move it to Trash.
If you cannot find "launchd.conf", do not delete ".dylib" files in Step 9. Follow the instructions carefully, deleting any inappropriate file can cause your computer to freeze and probably it may not restart.
9. On the Apple menu bar, click Go and then select Go to Folder.
/Applications/Genieo
/Applications/InstallMac
/Applications/Uninstall Genieo
/Applications/Uninstall IM Completer.app
~/Library/Application Support/com.genieoinnovation.Installer/
~/Library/Application Support/Genieo/
~/Library/LaunchAgents/com.genieo.completer.download.plist
~/Library/LaunchAgents/com.genieo.completer.update.plist
/Library/LaunchAgents/com.genieoinnovation.macextension.plist
/Library/LaunchAgents/com.genieo.engine.plist/Library/LaunchAgents/com.genieo.completer.update.plist
/Library/LaunchDaemons/com.genieoinnovation.macextension.client.plist
/Library/PrivilegedHelperTools/com.genieoinnovation.macextension.client
/usr/lib/libgenkit.dylib
/usr/lib/libgenkitsa.dylib
/usr/lib/libimckit.dylib
/usr/lib/libimckitsa.dylib
Where ".app", ".plist", and ".dylib" are all system files for Genieo. Move all the listed files to trash and then empty the Trash.
10. Remove the Omnibar extension from your browser. Detailed instructions can be found here.
11. Restart your computer.